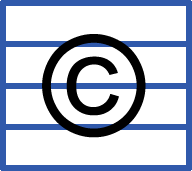 More about Marc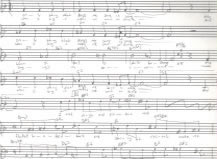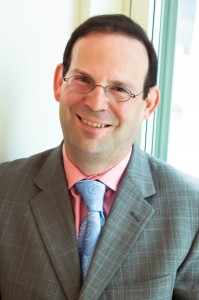 For more than twenty-five years I've been proud to work with musicians, writers, filmmakers and companies that are creators, owners or users of creative works. I guide clients through contract negotiations and dispute resolutions. I have been recognized by my peers as a 2022 New York Super Lawyer for entertainment and sports law. While I practice mostly copyright and entertainment law with particular expertise in music (scroll down for my resume), my colleagues and I handle a variety of litigation, corporate and other matters, both for companies and individuals.
And maybe you've noticed the piece of music on this page? It isn't clip art. Clip art would look better. That music, in my barely legible hand, is the theme to a jazz tune I wrote called The Only Thing That Keeps Me Sane Is Song.  And yes, I gave myself permission to put it there.
After spending my day helping clients solve their legal and business problems, writing songs and even doing an occasional gig helps me relax and stay sane.  It also keeps me connected to the creative side of the music business as I've spent many years working in that industry.
For example, from 2006-2008, I ran the U.S. office of Boosey & Hawkes, the classical music publishing company representing many of the greatest composers of the 20th and 21st centuries, including many Pulitzer Prize and Grammy Award winners. I streamlined operations, increased profitability and dealt with personnel issues while also overseeing all licensing and contractual matters. I also personally signed several NEA Jazz Masters to the roster.
After Boosey, I was the creative force behind ScoreStreet, an online music publishing service. I've also been Of Counsel to Winslett Studnicky McCormick and Bomser LLP, a litigation and corporate boutique with a broad IP and entertainment law practice. And I'm an Adjunct Professor at Cardozo Law School, which for several years has been one of Billboard's top ten law schools for music law and where for the past six years I have been the sole instructor for the law school's Music Law class.
Here's some additional background in a more typical presentation:
Prior to joining Boosey in 2004 as Vice President, Business Affairs, Marc was a Senior Attorney with BMI, where he prosecuted copyright infringement lawsuits, defended the company in cases involving songwriters, publishers and labels and advised management on legislation affecting songwriters. From 1995 until joining BMI in 1998, Marc was the General Counsel of Second Floor Music, a music publisher specializing in jazz.

Before entering the music business, Marc attended the University of Pennsylvania and the University of Chicago Law School. After graduating, he was in private practice, first with a large international firm and then a mid-size firm in New York, concentrating in commercial litigation.

Marc has also taught music business and arts entrepreneurship courses at Rider University and is a frequent speaker at industry forums and educational institutions.  He has served on the Board of the NY Chapter of the Association of Independent Music Publishers and as a Trustee of the Copyright Society of the USA. Marc has had articles published in "Copyright & New Media Law" (2016) and in "The Licensing Journal" (2015). He also provided material on grand rights licensing and rental of performance materials for the treatise, "Kohn on Music Licensing" (Aspen Press, 4th Ed., 2010).
I'm also an avid tennis player and during the holidays I post my amusing song, "Let's Have a Jewish Christmas," on YouTube, where it's enthusiastically received by my family and friends. And I'll keep writing songs until somebody pays me to stop.
Representative Recent Matters
Negotiated recording contract with major label for Grammy Award-winning composer (previously negotiated music publishing agreement with major music publisher)
Served termination notices and negotiated deal to re-assign post-termination rights in copyrights to several hit songs to major publisher on behalf of heir of Rock & Roll Hall of Fame and Songwriter Hall of Fame artist
Primarily responsible for closing deal, including negotiation of asset purchase agreement and chain-of-title due diligence, for sale of interests in songs from hit Broadway musical
Drafted asset purchase agreement and related contracts for sale of renowned family-owned music publishing catalog with several standards
Created new contract templates (songwriter, rental, synch, grand rights) for independent classical and educational music publisher
Negotiated recording contract and drafted side artist agreements for debut album nominated for a Grammy Award for best solo classical vocal performance
Negotiated and drafted agreements for authorizing creation of choral arrangements of poems by US Poet Laureate
Counseled senior executive at well-known national community improvement organization, including negotiation of separation agreement and subsequent hiring, including negotiation of employment agreement, by an international non-profit sustainability organization
Counseled purchaser, including review of purchase agreement, for the purchase and loan out of rare violin
Negotiated contract for conductor/arranger son of legendary film composer to revise orchestrations and conduct live orchestra accompaniment to screenings of iconic film
Created artist management agreement template for boutique artist management agency representing opera singers and conductors
Negotiated commissioning agreements with major opera company and major orchestra and created licensing templates for award-winning self-published composer
Education
University of Chicago Law School, Chicago, Illinois.  J.D.
University of Pennsylvania, Philadelphia, Pennsylvania.  B.A, magna cum laude
Teaching

Adjunct Professor, Benjamin N. Cardozo School of Law of Yeshiva University (Music Law: Spring 2022, 2021, 2020, 2019, 2018 and 2017)
Adjunct Professor, Westminster College of the Arts of Rider University (Recording Industry Seminar, Spring 2016, Fall 2013, Spring 2013 and Spring 2011; Independent Study Supervisor, Fall 2011; Copyright and Music Publishing Seminar, Fall 2010)
Speaking

*******
Featured Speaker, Cal. State Fresno Composer's Forum (February 2022)
Featured Speaker, Curtis Institute of Music Composer's Forum (March, 2021; December 2014)
Presenter, Introduction to Music Law, Lawline (online legal CLE provider) (February 2020)
Featured Speaker, Introduction to Stage Music, Catholic University (September 2020)
Presenter, Music Law Basics, Volunteer Lawyers for the Arts (April 2019, October 2018, March 2018)
Moderator, Music Modernization Act Panel, Cardozo Law School Entertainment Society (April 2019)
Moderator, Music Sampling Panel, Cardozo Law School Arts & Entertainment L.J. (November 2017)
Panelist, U.S. Copyright Office Section 512 Study (New York City, May 2016)
Featured Speaker, Juilliard Composers' Forum (October 2016, October 2010, May 2005)
Featured Speaker, New York University Composers' Forum (February, 2016, September, 2013, February 2013)
Radio
Guest Expert, Knowledge@Wharton, SiriusXM Radio channel 132, segment on Taylor Swift's objections to Big Machine Records sale to Ithaca Holdings (July 2019)
Guest Expert, Knowledge@Wharton, SiriusXM Radio channel 132, segment on music publishers' copyright infringement lawsuit against Peloton (March 2019)
Guest Expert, Knowledge@ Wharton, SiriusXM Radio channel 132, segment on artist objections to use of their music at political campaign rallies (November 2018)
Guest Expert, Knowledge@Wharton, SiriusXM Radio channel 111, segment on music licensing & Olympic figure skating (February 2018)
Video
Marc's presentation, Introduction to Music Law, is available for CLE credit at Lawline.
Marc was interviewed in Episode 14 (ASCAP, BMI, DOJ and 100% licensing) and Episode 4 (copyright & fair use) of the Music Publishing Podcast, hosted by composer, Dennis Tobenski.
Articles
"Finding Transformative Use in Fair Use Cases," Copyright & New Media Law, Vol. 20, No. 2 (Digital Information Law, Spring 2016)
"The Copyright Act as It Relates to Musical Works," The Licensing Journal, Vol. 35, No.9 (Wolters Kluwer, October 2015)
Several of Marc's blog posts have been featured on The Dean's List, a major music industry blog.
NewMusicBox, Guest Blogger (4 articles published September 2015). Topics included creative collaborations and fair use.
Getting Permission To Use Copyrighted Texts In Musical Works  (Songwriter 101,  October 2010)
Composing for Orchestras and Other Ensembles, Part II: Doing The Deal (Songwriter 101, September 2010)
Composing for Orchestras and Other Ensembles, Part I: Getting The Gig (Songwriter 101,  August 2010)
Updated versions of the Songwriter 101 articles are also available on my blog.
Co-author, "Music Industry to MP3: Resistance Is Futile" Corporate Counsel, July 2000.
Press
Marc was one of two legal experts quoted in a November 5, 2018 Time magazine article, "Can Rihanna Stop Trump From Using Her Song? Experts Weigh In."
Marc was quoted extensively in a May 8, 2018 article in the Washington Examiner, "Big Copyright Changes Come for Streaming Music Providers."
Marc was quoted extensively in the September 19, 2016 article, "Music Rights Orgs Can't Rest Easy After Surprise Ruling," as posted on the Law360 blog.
Marc has twice been profiled in Billboard (April 17, 2007 and billboard.biz September 10, 2008) as well as in Larry LeBlanc's Celebrity Access Industry Profile (November 2008)
He has also been profiled twice at the Cornelia Street Cafe blog (October 17, 2011 and July 12, 2011), the renowned jazz and new music venue where he has performed his original compositions many times over the past several years.
Admitted to Practice
Licensed to practice law in New York state and federal (SDNY and EDNY) courts since 1990.
Memberships
Association of Independent Music Publishers (Board Member, NY Chapter, 2007-2010)
Copyright Society of the U.S.A (Trustee, 2007-2010)
Association of the Bar of the City of New York
*****
Music Publishers' Association (Board Member and Chair, Copyright and Licensing Committee, 2005-2009)
ASCAP Symphonic and Concert Music Committee (Publisher Member, 2006-2008)