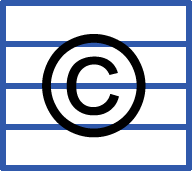 How We Can Help You
We help clients with issues involving copyright and other forms of intellectual property law, both in the entertainment industry and beyond. We enable creators and users of IP to protect and license works, guide them through contract negotiations and resolve disputes.
Marc's clients include composers, fiction writers, recording artists, music publishers, internet start-ups and even lawyers in other fields. He's skilled in negotiating and drafting a variety of entertainment industry contracts, including book and music publishing, recording artist, producer, management, film scoring, commissioning, collaboration and licensing agreements.
We offer a wide range of services for individuals and companies needing intellectual property and entertainment law expertise. Please contact us if you need:
help with negotiating reviewing music or other entertainment industry contracts
assistance in resolving a copyright or contractual dispute
counseling regarding copyright or trademark registrations or copyright terminations
advice on how to license music, lyrics, images, video or text in your business
guidance on starting or growing your arts-related business
expertise in selling or transferring intellectual properties or evaluating an infringement claim
Through his affiliation as "Of Counsel" to Winslett Studnicky McCormick and Bomser LLP, a firm with broad IP and entertainment expertise, Marc now offers clients both in arts-related fields and in other industries a more comprehensive suite of services, including:
Litigation, arbitration and mediation
Corporate and securities law, including business formation, financing and transfers
Software, technology, new media and other intellectual property licensing.
And having worked in start-up, private equity and corporate environments, Marc ably provides general counsel services to new and growing businesses. Many basic questions can be handled through our convenient and affordable Artist's Legal Tune-Up service.
So, if you have questions you need answered, deals to be negotiated or problems to be solved, please contact us. We're here to help you.
Here's what some of our clients have said about Marc's work:
"Marc skillfully helped me navigate my first major publishing deal — his experience being on the other side of the table was invaluable, and he was able to get me the terms that I wanted. He was also very sensitive to my budget as an independent musician as well. Highly recommended!"
C.T., Two-time Grammy Award-Winning Composer
"When I was presented with the publishing contract for my first novel, I quickly realized I needed professional assistance — I had invested so much time and money in my project, I knew it would be a mistake to rush into an agreement I might regret later. Marc carefully reviewed the document and found several areas for improvement, which he handled deftly and courteously with my publisher. I'm very happy with the results, and highly recommend Marc's services."
GF, Fiction Writer
"You made the process easy and efficient by understanding what I was trying to achieve from a business point of view.  You also were extremely expert in the technical aspects of the subject-matter, as well as the fine points of general contract law."
R.R. Purchaser of consumer forum website and attorney
"I had a great experience working with you. I was in a bind and very nervous about the process of music clearances and having you come on board to guide me through this process was a great relief. Your expertise, completely professional manner, support and navigation through every detail of the process was clear, thorough, superb."

Y.H., Choreographer and Performer
"I still can't believe you managed to take that pile of old paperwork I sent you and turn it into the marvelous, magical sum….You are a real miracle worker!"
B.F., Widow of Jazz Composer
Marc was able to explain all of the complicated legal issues to me in a way that was easily understandable, and was able to craft a clear contract for me. He followed up, returned calls in a timely fashion, and educated me on derivative works licenses. He clearly has vast experience in this area of law and was able to execute the contract in a minimum amount of time.
B.B, Composer and Recording Artist
"Marc Ostrow was instrumental in successfully negotiating a difficult text clearance contract with an author's agent. After several fruitless months of trying to do it on my own, he stepped in and quickly finalized an agreement that was fair for all parties. It was money well spent. I was particularly impressed with his communications skills: clear, assertive, but non-aggressive and easily understood."
J.M., Composer
"At the end of the semester, I not only felt as though I had a firmer grasp of the music business, but beyond that, I felt confident that I had personally and professionally developed as an aspiring artist administrator, ready to take on a job in my field."
B.M, Student, Rider University
"You put several things in context in a fresh way…your descriptions were concise, clear and compelling."
R.M., Composer
"Though your classes (and exams) were arduous and sometimes very difficult, they became the most rewarding classes in my college career. I have learned so much from you and I am very grateful that I had the opportunity to be your student."
C.J., Student, Rider University
"Man, I couldn't have done this [film scoring contract] without your awesome help."
J.T., Composer