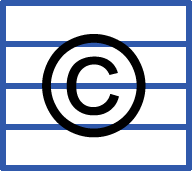 Resources for Creative Types
We believe that an informed client is a satisfied client. We also believe in serving the arts and entertainment communities. Particularly given the current economic climate, we are pleased to provide links to copyright, music and other arts-related sites that contain a cornucopia of valuable free information. As indicated in his attorney bio, Marc Ostrow has held significant positions in several of the organizations listed below.
Register your songs, books, dramas, photographs, films, fashion designs and other creative works online. Read the various circulars on how to register particular types of works, research copyright office registrations and documents as well as other resources explaining various aspects of copyright, including the Copyright Act, copyright regulations and the Compendium of Copyright Office Practices. Various Copyright Office studies, including the 2015 Music Licensing Report, are also available.
Although it doesn't take the place of having an attorney perform a comprehensive trademark search, one can do a preliminary search on the site to see if a name might be available for your band, product or service. This site also has basic information about trademarks, which offer different protections from copyrights.
The web sites of the two major performing rights organizations (PROs) contain a wealth of information about the music business, legislation and career advice for musicians. Search their databases, as well as the database for the third  PRO, SESAC, for writer and publisher information on millions of musical works.
Code of Best Practices in Fair Use for the Visual Arts
This pamphlet, released in February 2015 by the College Art Association, provides helpful guidelines, with separate sections for writers, educators, visual artists, museums and online archives. The Code, in setting forth its principles, states: "[i]t does not provide rules of thumb, bright-line rules, or other decision-making shortcuts. While drafted for visual artists, the principals and discussion may provide some helpful guidance and framework for evaluating fair use in other contexts as well.
New Music USA was formed in 2011 from the merger of the American Music Center and Meet the Composer.  Its mission is to increase opportunities for composers, performers and audiences by fostering the creation, dissemination, and enjoyment of new American music, both nationally and internationally. New Music USA places special emphasis on broadening the public community for the music and musicians whom we serve. New Music USA offers grants to composers, contains a searchable database of thousands of works by American composers and features the online magazine NewMusicBox and the adventurous programming of Counterstream Radio.
The American Composers Forum (ACF) is a non-profit membership organization dedicated to the promotion and assistance of American composers and their music. Through granting, commissioning, and performance programs, the Forum provides composers at all stages of their careers with valuable resources for professional and artistic development. By linking communities with composers and performers, the Forum fosters a demand for new music, enriches communities, and helps develop the next generation of composers, musicians, and music patrons. ACF's members are composers in classical, jazz and other genres as well as publishers, attorneys and others in the music field.
Association of Independent Music Publishers
You don't have to be a music publisher to join. With chapters in NY, Nashville and LA, AIMP has monthly panels on various music industry topics that are well attended by a variety of musicians, publishers, labels, attorneys and managers.
Seattle-based Doug McLellan maintains this site and also publishes a daily newsletter covering all of the creative and performing arts.
Volunteer Lawyers for the Arts
VLA offers a variety of seminars to artists in all disciplines relating to issues affecting their work. Subject to their income and other requirements, they also offer free legal services. They also offer training for lawyers interested in working with artists.
So you want to be a producer? CTI is dedicated to training the next generation of commercial theater producers, providing resources and guidance to individuals interested in the various paths one can take towards creating commercial productions for the stage.
The Dramatist Guild of America The Dramatists Guild of America was established over eighty years ago, and is the only professional association which advances the interests of playwrights, composers, lyricists and librettists writing for the living stage. The Guild has over 6,000 members nationwide, from beginning writers to the most prominent authors represented on Broadway, Off-Broadway and in regional theaters. The Guild was established for the purpose of aiding dramatists in protecting both the artistic and economic integrity of their work.
Write Dean Kay, noted songwriter, publisher and ASCAP Board member, to subscribe to his free daily newsletter linking to articles on copyright and the music business.
While the Copyright Society primarily consists of legal practitioners and academics in the copyright bar, membership is open to anyone with an interest in copyright law and their luncheon seminars given at chapters throughout the country and semi-annual meetings provide much current information about developments in copyright law, which ultimately affect artists in all disciplines.
CA is an organization of artists, educators, lawyers, companies, trade organizations involved in the creation and dissemination of all forms of copyrighted works, from music, publishing, film and TV, videogames, photography and software developers, which sponsors advocacy, education and research in support of intellectual property rights and free expression.
FMC is a research, educational and advocacy group for musicians. FMC provides an important forum for discussion about issues at the intersection of music, technology, policy and law.
National Music Publishers Association
NMPA is the leading trade association in the US for music publishers, advocating on their behalf as well as on the behalf of songwriters before various federal legislative and administrative bodies. Their web site offers a variety of information about copyright, music publishing and legal issues relating to the music business.
For more than 75 years, SGA has provided advocacy to songwriters, including lobbying Congress, assistance with music publishing and royalty issues and offering seminars and professional advice to songwriters.
National Academy of Recording Arts and Sciences
Voting Members of NARAS are the folks who vote on the Grammy Awards each year. NARAS has chapters throughout the country and offers its members discounts on a variety of goods and services.
Manhattan Association of Cabarets and Clubs
MAC members are cabaret and jazz performers and club owners in New York. They offer their members seminars in various aspects of being a performing club musician in New York and discounts at many popular venues.