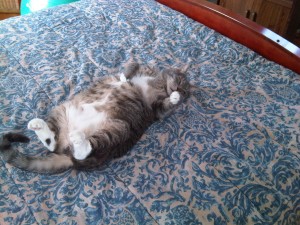 Earl is sleeping comfortably on my bed right now, curled up in a ball with his paws over his face. He's the picture of ultimate cuteness and contentment. He's been my constant companion since Valentine's Day 2004 when my now ex-wife and I adopted him and his female feline friend, Angel, from a colleague of hers who rescues strays and finds them forever homes.
My ex and I had gone to adopt Angel, a beautiful calico with huge green eyes, white paws and belly. She'd been adopted out and returned – twice. Stunning, but extremely skittish, she wouldn't let anyone near her to pet her and would hide. She had obviously been traumatized by someone. And who wants a cat you can't even pet?  But she was taken in by Susie, my ex's friend, as a skinny, frail kitten, at the same time as Earl.
Earl was already an adult cat. A big, gray tabby mix. Susie had named both kitties and Earl Grey (or at least the Earl part) suited him. Earl was banged up, having been on the receiving end of a few too many cat fights. He's a lover, not a fighter. And as x-rays would later reveal, he had BBs in him as some soulless lout had used this poor creature for target practice.
So, with the idea of adopting the beautiful Angel, we set out for Susie's place. There, I met Earl. And he immediately chose me: I picked him up and he immediately rested his head on my shoulder, purred and went to sleep. Knowing that Angel and Earl got along well, I realized that the only way Angel would ever have a real home and a shot at a decent life would be to adopt the two cats together.
And they've been together ever since. As my friends and family know, I'm fond of saying I have a cat (Earl) and my cat has a cat (Angel) and that every cat should have a cat. And yes, I've publicly performed many times a song I'd written about my cats. But this is Earl's story; Angel's will have to wait for another time. Suffice to say she's still extremely skittish and will never be a lap cat, but she does let me pet her and she and Earl remain the best of friends.
A little more about Earl. There are plenty of other cats, mostly pure breeds (and Angel) that are better looking. But Earl was made for maximum cuteness. He has a ringed black and gray tail, like a raccoon. He has white booties on his rear legs and little half-booties or mittens on his front legs. His booties have patches. I like to say his momma was too poor to give him new booties.  He has a white ruff and a buff colored belly. He is simply the cutest cat. Ever.
And the most affectionate.  Despite having been mistreated and abandoned before his rescue, he loves people. He craves attention. He loves to be petted and held. And with rare exceptions, mostly when he's not feeling well, he's slept at my side every night for nine years, periodically sharing the bed, first with my wife and then girlfriends.  And he's a snuggler. A living, breathing plush toy, he loves to cuddle.  He purrs so loudly that if I hold him up against me I'll feel the vibrations from his purring in my ribs. He's just a sweet, sweet boy.  He loves company and will follow you around like dog – a puppy in a cat suit.
And he's a hedonist. He assumes that the world exists to feed and pet him and I've done my best not to disabuse him of this notion. A healthy eater who I indulge with table scraps, he had tipped the scales at eighteen pounds at one point. And, unlike Angel, he loves his catnip. Yes, I spoil them. And yes, I feed them premium grain-free wet food and kibble and they drink filtered water. And I cook for them too: slightly browned ground turkey with Wild Kitty mix and water. Yum!
And a very happy cat. In addition to his extensive napping, he loves to roll over on his back and rest or sleep with his plump belly exposed and his paws in the air. Particularly when I'm playing the piano. He loves my playing – not the interpretations I suppose, but the vibrations from the sound. Angel, however, is the ultimate critic: she runs from the room the moment the "music" begins!  When I've had my moments of solitude in the darkest, bluest of hues – and there have been many such moments in recent times, unfortunately –  seeing Earl on his back will always make me smile if not laugh out loud. And I think he knows this. Cats are very intuitive. And he and I take care of each other.
But Earl recently had a terrible health scare. Having been owned by cats for quite awhile, I know that, like people, cats will sometimes get sick but then recover on their own. So I waited a bit. But the symptoms grew worse. From prior vet visits and x-rays I know that Earl has arthritis in his back. And he'll arch his back when he walks. And his long-jumping days have long been over.
It got to the point where not only was he no longer sleeping on the bed, but he'd spend the day in his "safe place" at the bottom of a closet in the TV room. And he was barely eating. And he could barely move. Limping noticeably, it was even hard for him to lie down.  And I couldn't even pet him as he was sensitive to touch. I called my holistic vet and she, unfortunately was heading out of town but she said he needed to be seen right away.
I was preparing myself for the worst as Earl had lost a significant amount of weight and would only pick at his plate – and only then when I either carried him to his food or brought it to him. If there is nothing more joyful than a blissed-out kitty, there are few things as heartbreaking as an animal in pain.  I know that I'll eventually lose him, as friends and family have recently lost kitties in the last few years. But I was hoping I wouldn't have to let him go just yet.
You see, that toothless (he'd lost the majority of his teeth – some were removed, others fell out), old, arthritic cat has been my best friend and constant companion for a long time. But I didn't think of him as old or unhealthy – he was just Earl. And suddenly, within a very short span, he seemed old and frail and bereft of his personality.  And the vet told me she thinks he's even older than I'd thought: I believed he was about 12 based upon what the first vet to examine him said way back when, but my vet thinks he's probably a couple of years older than that.  And he'd gotten too thin as I could feel the bumps in his spine.
But, as before, fortunately, Earl has rebounded again. My vet has given him homeopathic medicine, but also, recently-approved laser therapy for his back, injections of non-steroidal supplements (think injectable glucosamine) and kitty acupuncture – which he loved. As I write this, his appetite has returned, he's once again sleeping at my side and he's moving normally – at least for him.
But I know he and I have dodged a bullet and that one day I know he'll become sick again and won't be able to recover. Which is why I'm writing this now. Because even with Earl healthy it's hard for me to write. And I know that when the time comes for him to take his leave I know I won't be able to write anything that would even begin to capture his essence and how much he's meant to me for so many years.
Those of you who have cats (or other furry four-legged friends) know what I mean. Those of you who don't may think I'm crazy or think that he's only a cat. But seeing him curled up asleep, or lounging on his back, or feeling his purr when you hold him is to experience unbridled joy in its purest form.  And that's something that's so badly needed with all the heartache and strife in the world. So, as with other loved ones, I'm taking the time now to tell him how much I love him, how much I need and appreciate him and that when the time does finally come, I'll make sure that his transition is peaceful and that he does not suffer for my sake.
Postscript:
On the morning of May 5, 2014, my sweet boy, Earl, passed. He'd not been well for a couple of days and I had a vet appointment booked. However, he took a turn for the worse that morning and although I was able to get him to the emergency care vet in time, there was nothing they could do. His generous heart just gave out and it was time for him to go and, as I promised, I told the vet there should be no extraordinary measures and to just make sure he wasn't in any pain.
I'm very grateful for the more than 10 years I had with him and Angel and I miss him very much. As for Angel, whether she's trying to comfort me, make up for the lost attention she had from Earl or is channeling his spirit – or some combination of these,  she's become more affectionate, often asking to be petted and even letting me cuddle and snuggle with her a little.
https://ostrowesq.com/wp-content/uploads/2013/03/EarlBliss.jpg
1536
2048
Marc
http://ostrowesq.com/wp-content/uploads/2016/10/newostrowlogo.png
Marc
2013-03-29 14:55:34
2014-06-03 20:19:06
Earl the Cat, in Sickness and in Health